By bringing together biomedical research and discovery with world-class physician-scientists advancing care for patients with Alzheimer's, the center aims to accelerate the pace of development for novel treatments and cures.
PROVIDENCE, R.I. [Brown University] — With support from two generous gifts totaling $30 million, Brown University is establishing a new Center for Alzheimer's Disease Research with the aim of building a world-class research program focused on early detection and treatment of Alzheimer's disease and related dementias.
The center will integrate the expertise of scientists and physicians at Brown's Robert J. and Nancy D. Carney Institute for Brain Science and the Division of Biology and Medicine, home to the Warren Alpert Medical School. Its launch is made possible by gifts of $25 million and $5 million from donors who wish to remain anonymous.
University leaders say the center will build on Brown's existing strengths in Alzheimer's disease research, which range from the study of risk genes, cognition and the biology of aging to development of new therapeutics and care of patients with dementia. By linking together scientific and clinical work across these areas, the center will create a uniquely interconnected program with the goal of breakthroughs that change the trajectory of Alzheimer's disease and related dementias.
Brown President Christina H. Paxson said that with devastating consequences of Alzheimer's disease and dementia impacting more families every year, the University will bring the full force of its scholars' medical and brain science expertise to expedite progress toward new treatments. With faculty research fueled by federal funding, Brown ranks among the top 20 universities in the nation for research on the disease.
"This is truly a transformative moment for Alzheimer's disease and dementia research at Brown," Paxson said. "We have a robust foundation in place, and by bringing aboard new scholars, investing in facilities and creating the infrastructure to connect the incredible work already happening in our labs and clinical settings, our goal is to accelerate development toward novel treatments and cures in the fight against this devastating disorder."
Diane Lipscombe, a professor of neuroscience at Brown who leads the Carney Institute, said that despite scientific progress, there is much to learn about the biology of Alzheimer's and related dementias. Addressing such complex diseases requires the integration of expertise across multiple fields of study.
"The aim of the new center is to convene that expertise at Brown," said Lipscombe, who will serve as the initial director of the Center for Alzheimer's Disease Research. "Ultimately, our work will contribute to a more thorough understanding of the most fundamental mechanisms involved in neurodegeneration, which will enable earlier diagnosis as well as the creation of treatments that will not just slow degeneration but also prevent it."
Lipscombe has directed Brown's brain science institute since 2016, a period over which its scholars have made new advances in developing assistive technologies to restore communication and mobility to people affected by paralysis; created new tools to map brain circuits that control behaviors, enabling scientists to make new discoveries in neuroscience; and developed computational software that is producing groundbreaking insights into the nature of rhythmic brain activity.
"At Carney, we've been able to achieve a lot in a short period of time by working within the collaborative, cross-disciplinary environment that is Brown University," Lipscombe said. "With this Alzheimer's disease center, we will similarly create the framework for scholars in basic science to interact with clinical researchers in our affiliated hospitals. When there's a common drive to make an impact among so many talented experts across fields, that's when you have enormous potential to really change the trajectory of this disease."
Dr. Jack A. Elias, who leads biology and medicine at Brown, recalled a moment several years ago when the idea for the Center for Alzheimer's Disease Research started to crystallize.
"After yet another disappointing announcement that a pharmaceutical effort to treat Alzheimer's had failed, it became clear that it was time to bring new expertise and perspective to bear on this challenge," Elias said. "Brown not only has a tremendous amount of talent in basic science research and discovery, but also excellent clinical activities and world-class Alzheimer's care at its affiliated hospitals. These gifts and the launch of this center make it possible to bring all those brilliant people together to look at this disease in a different way."
The $25 million investment from the new center's lead donor, and the additional $5 million gift in support, mark major progress toward an initial fundraising goal of $50 million for the center and come as part of the University's BrownTogether campaign, which has raised $2.88 billion to date. The gifts also build on major philanthropic support for Brown's cutting-edge work in brain science — of the total contributed to BrownTogether to date, more than $218.3 million has been raised to support research and education in brain science, including a $100 million gift that named the Carney Institute in 2018 and a $25 million investment in January, part of which funds computational brain science.
"Among the key priorities of the BrownTogether campaign is to raise funds for Brown research and discovery with the potential to transform treatment and care for people and their families living with Alzheimer's and other devastating diseases," said Sergio Gonzalez, senior vice president for advancement. "These significant gifts for Alzheimer's research are a testament not only to the generous spirit of our donor community, but to their commitment to the work of Brown scholars to create solutions to the world's most pressing problems."
Linking basic and clinical research through strategic infrastructure investments
Among the accomplished researchers and clinicians at Brown working to solve the Alzheimer's puzzle is Dr. Stephen Salloway, a professor of neurology and psychiatry who will serve as the associate director of the center, overseeing clinical research. Salloway has been a lead author on key Alzheimer's studies that have been published in the Journal of the American Medical Association, the New England Journal of Medicine and more. He leads the Memory and Aging Program at Butler Hospital, a globally recognized clinical research center focused on Alzheimer's, and an affiliated hospital of Brown's medical school.
The holy grail in Alzheimer's research, Salloway says, is a simple, effective, widely available blood test for early detection of the disease — one that can identify who is predisposed to developing memory loss and other dementia symptoms, so that treatments can be administered as early as possible.
The gifts to Brown will aid in that quest by establishing a fully staffed fluid biomarker facility. The facility will enable researchers to collect from patients and analyze fluid biomarkers such as cerebrospinal fluid and plasma samples, identify gold-standard Alzheimer's disease biomarkers, develop new hypotheses about the disease and assess the efficacy of clinical trial treatments.
"I would like to see Brown help to open the modern era of treatment for Alzheimer's disease, where patients can receive an early and accurate diagnosis and start on treatments that preserve memory and quality of life," Salloway said. "We are also entering a time where older people can safely learn about their risk for Alzheimer's and take steps to keep their brain healthy — this center can help them do that, and the fluid biomarker facility will be an essential tool in enabling our success."
Once up and running, the facility will serve as a bridge between basic laboratory science and clinical patient-focused research, Lipscombe said. Biological and brain science research will be informed by direct access to patient-derived biomarkers and genetic data, and clinical researchers will have immediate knowledge of novel disease targets identified through basic research.
For example: "A researcher might say, 'I think I have a biomarker, but I need to test this hypothesis.' We'll now have a facility with skilled scientists who can develop a laboratory test to evaluate that hypothesis and conduct additional, highly sophisticated analysis — all right on the Brown campus," she said.
Funding from the gifts will also expand a partnership with a renowned translational research team led by Oskar Hansson of Lund University in Sweden. Together, the teams at Brown and Lund will study a new cohort of 500 asymptomatic individuals to identify early biomarkers of cognitive impairment and ultimately, Alzheimer's disease. Hansson and his colleague Henrik Zetterberg are two of the world's leading fluid biomarker experts and are working with Brown on the establishment of the biomarker facility.
"The biomarker initiative is really a team effort," Salloway said. "Brown faculty, working with researchers around the world, will help to develop combination treatments using precision medicine approaches that target key components of the disease based on the molecular profile of individual patients."
A hub for multidisciplinary research that advances the field
Support from the gifts will also help Brown build a critical mass of Alzheimer's researchers. While Lipscombe will direct the center at its outset, the $5 million gift will contribute to the recruitment of a full-time leader dedicated to the Center for Alzheimer's Disease Research. The University will also recruit key faculty in bioinformatics and neuroimmunology, two areas that will complement existing Brown expertise in biomed and brain science.
"We're keen on bringing in a bioinformatics expert focused on Alzheimer's disease, dementia and neurodegeneration to identify new disease risk factors and make connections from human-derived data to basic science," Lipscombe said. "And neuroimmunology is a rapidly growing field that seeks to understand the interplay between the immune and nervous systems in disease. Studying these systems is central to uncovering the origins of Alzheimer's disease."
To incentivize collaborative new Alzheimer's research projects across Brown's schools, institutes, centers, departments and affiliated hospitals, a portion of the $25 million gift will be used as seed funding for new multidisciplinary efforts. The center will hold an annual competition to award funds to innovative proposals.
"At Carney, we've been able to catalyze new projects and discoveries through tremendously successful innovation programs and competitions," Lipscombe said. "We want to stimulate Alzheimer's research much in the same way."
Nearly 60 principal investigators at Brown and its affiliated hospitals received a total of more than $40 million in federal funding for Alzheimer's research in 2020 alone, earning Brown its top 20 ranking for research on the disease. And Brown-affiliated researchers are currently involved in 17 clinical trials of Alzheimer's treatments,  including at Rhode Island Hospital. Salloway, at Butler Hospital, and Rena Wing, a Brown professor of psychiatry and human behavior associated with the Miriam Hospital, are principal investigators of the Alzheimer's Association's and NIH-funded U.S. POINTER study, a landmark clinical trial to evaluate the effect of lifestyle interventions, such as vigorous exercise, Mediterranean diet, heart health and brain training on the risk for cognitive decline. The launch of the center and the addition of new faculty and incentives for new research projects will build on a wide array of existing Brown strengths related to Alzheimer's in biology and brain science, many of which are supported through that federal funding.
The new center will aim to bring together scholars leading projects in the Carney Institute, the Division of Biology and Medicine, the School of Public Health, the Department of Cognitive, Linguistics and Psychological Science (CLPS); various centers including the Center on the Biology of Aging; as well as with Butler, Rhode Island and other affiliated hospitals. Among Brown's existing projects making an impact on Alzheimer's and dementia: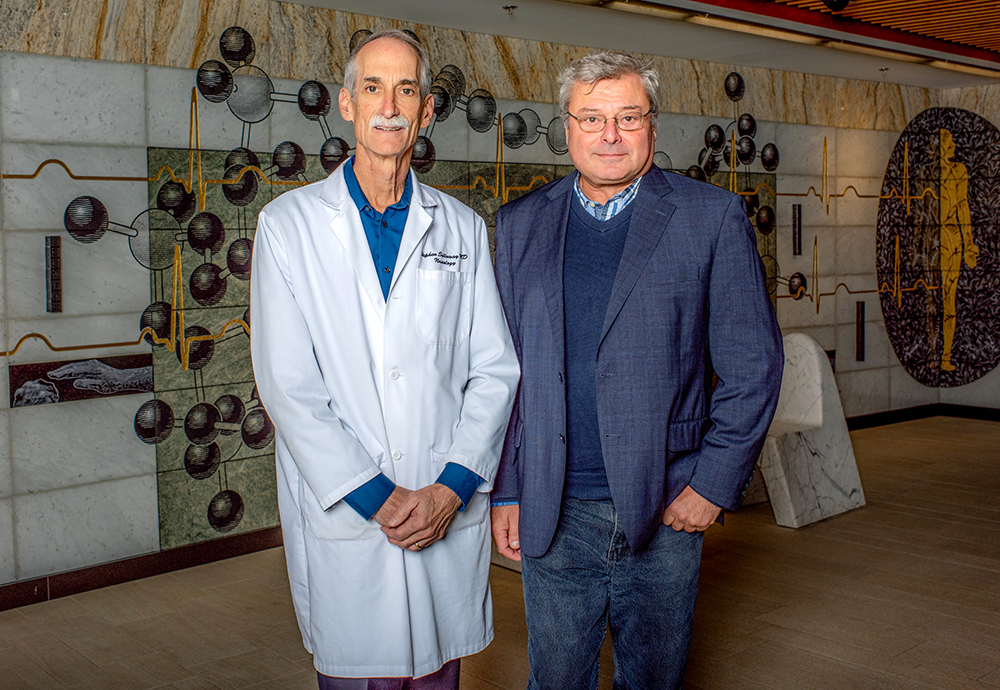 Eric Morrow (biology, neuroscience) and colleagues in Brown's Center for Translational Neuroscience are using genetics technology such as CRISPR-Cas9 to dissect the cellular mechanisms of brain disorders such as autism, epilepsy, Alzheimer's, psychiatric disorders (schizophrenia, stress) and genetic diseases.
Vince Mor (public health) is leading a nationwide effort to improve health care and quality of life for people living with Alzheimer's disease and related dementias, as well as their caregivers.
Hwamee Oh (psychiatry, human behavior, CLPS) and her team are developing novel cognitive and neuroimaging markers of preclinical Alzheimer's disease.
Stephen Buka (epidemiology) and William Heindel (CLPS) are studying risk factors for Alzheimer's and cognitive decline for 720 members of a 1960 birth cohort, whose participants are now in their 60s. They are conducting neuropsychological testing, analyzing blood biomarkers and collecting MRI data to understand neurocognitive mechanisms underlying the risk for Alzheimer's disease among older adults.
John Sedivy (biology) published a discovery in the journal Nature showing that nucleoside reverse transcriptase inhibitors used to treat HIV decreased age-related inflammation. The study led to a major grant from the Alzheimer's Association to study this therapeutic in early Alzheimer's, and to a biotech startup to develop new drugs targeting this mechanism.
Ashley Webb (molecular biology, cell biology and biochemistry) is developing a platform to study aging in the hypothalamus brain region, the seat of control for critical processes such as sleep, temperature regulation, eating and metabolism, which can become dysregulated with aging. Webb's group is working to generate hypothalamic brain cells from human cells, which for the first time will allow researchers to generate rare types of human neurons that are physiologically aged.
A multidisciplinary team — which includes Alexander Fleischmann (neuroscience), Petra Klinge (neurosurgery), Thomas Serre (CLPS and computer science) and Danny Warshay (entrepreneurship) —  is leading research that aims to identify molecular biomarkers for the diagnosis of normal pressure hydrocephalus, a neurodegenerative disorder that causes prominent cognitive and motor symptoms and eventually leads to dementia.
Researchers at Rhode Island Hospital and Brown led by Lori Daiello (neurology) are conducting a study that uses an innovative brain MRI protocol to investigate the role of blood-brain barrier dysfunction and inflammatory markers in predicting delirium and cognitive impairment following major surgeries.
Using pure human neurons derived from human embryonic stem cells, Alvin Huang (molecular biology, cell biology and biochemistry) has focused on the role played by the leading Alzheimer's risk gene, ApoE. His team is examining how the gene variant ApoE4 influences neuronal function as well as whether it might be a target for therapeutic potential.
Each of these efforts is essential, Lipscombe notes, because the brain is composed of multiple interconnected biological systems — neuronal, glial, immune and vascular — and all have been implicated in Alzheimer's disease and neurodegeneration. Preventing or delaying Alzheimer's disease onset will depend on an early, multifaceted treatment regime informed by target identification across these biological systems that is anchored in and informed by patient data.
"Brown is uniquely positioned to cover this field from the earliest, most fundamental mechanisms all the way through to patient care," Lipscombe said. "Thanks to these gifts, we have an incredible opportunity to change the disease trajectory through the Center for Alzheimer's Disease Research — there is no more time to waste."