A fully virtual Reunion Weekend, featuring longstanding traditions and unexpected twists, and a series of remote Commencement forums complemented in-person events taking place on College Hill from April 30 to May 2.
PROVIDENCE, R.I. [Brown University] — Brown's Reunion Weekend is truly like no other. With each class of Brown graduates invited every fifth year, the weekend-long event invites approximately 15,000 alumni to College Hill annually, where they congratulate the University's newest graduates while reconnecting with each other during three days of reflective ceremony and spirited celebration.
The COVID-19 pandemic paused this storied tradition in 2020, when the University and the world were in the earliest stages of adapting to new, rapidly developing health and safety measures. But Reunion Weekend returned to Brown with a twist this year, with nearly 30,000 alumni — a number doubled to accommodate those who would have attended last year — invited to come together for a weekend of virtual activities from April 30 to May 2, 2021.
This year's virtual Reunion featured many tried and true traditions — and a few new ones — all thoughtfully adapted to an online format and steeped in a spirit of community that has stayed strong through the pandemic, said Andy Shaindlin, vice president of alumni relations and member of the Class of 1986.
"We knew that we couldn't reproduce the experience of physically being with your classmates and being part of the Reunion activity that takes place during Memorial Day weekend on College Hill," he said. "But we wanted people to have the same sense of reconnection — of rekindling the relationships with friends and classmates — while also taking advantage of some of the new things that being online enabled us to do."
Add to the weekend's Reunion events a set of compelling Commencement forums, a Brown tradition for more than four decades featuring presentations and discussions on timely topics, and the virtual experience in many ways matched what alumni, new graduates, family and friends experience every year on campus.
The format may have been distinct, but the spirit was largely the same.
https://www.youtube.com/embed/LS1PZhP7Izc
Virtual Reunion Kickoff
Brown alumni across the decades about their favorite Reunion Weekend memories, enjoy views of campus and relish some Brown nostalgia.
Ceremony and celebration in a virtual space
To start the weekend of ceremony and celebration, many alumni tuned in to a Reunion Weekend Kickoff on Friday evening. The virtual event opened with welcoming remarks from University President Christina H. Paxson, who expressed appreciation for the spirit and support that Brown's alumni have continued to show during a year of unprecedented challenges.
"Thanks to all of you for keeping the spirit of Brown so alive even in a difficult time — and thank you for everything you do to strengthen the University and what you do to affirm the bonds of community that we all share," Paxson said. "I hope that what this weekend does is remind you of what made Brown the place that you continue to cherish so many years after you marched out through the Van Wickle Gates."
The kickoff featured welcome remarks from alumni leaders and interviews with Brown graduates who recalled favorite Reunion memories and shared what they most looked forward to about this year's events.
"My class is all over the world," said Mandy J.N. Tachiki, a Class of 1995 graduate. "And so what I'm looking forward to, really, is seeing classmates who would not normally attend in person, but can now attend because it's virtual."
Because of its virtual format, this year's Reunion marked the first time many had experienced the annual ceremonies that unite the Brown alumni community each year. Among these is an annual Unity Celebration, which invites members of alumni affinity groups to celebrate their identities, heritages and experiences together, while welcoming members of the graduating class into their alumni communities.
In a typical Reunion year, an alumni representative from each of these groups presents one soon-to-be graduate — chosen for outstanding community leadership — with the stole, lei or cord they will wear during their Commencement ceremony to symbolize their membership among fellow Black, Indigenous, Asian-American, Latinx, first-generation and LGBTQ students and alumni.
This year — with alumni spread out across the globe — students received their stoles, leis and cords in advance. But in Friday's virtual event, representatives from each affinity group offered remarks celebrating the achievements of their soon-to-graduate honoree and welcoming them into Brown's diverse alumni community.
"When you're presenting, you're really tuned in to the fact that you are passing on a tradition to those who are coming after you and connecting to those who came before," said Class of 2014 graduate Stephanie Harris, who offered remarks honoring senior Wassa Bagayoko on behalf of Brown's Inman Page Black Alumni Council.
Afterward, the student honorees shared the screen as they offered thanks to their affinity group leaders, friends and mentors at Brown — and offered each other virtual affirmations during their remarks. The event also featured performances by a capella group Shades of Brown and Fusion Dance Company, two student organizations that center multi-cultural, multi-ethnic student artists.
For Ryan G.W. Grubbs — a 2010 graduate and president of the Brown University Transgender, Bisexual, Gay and Lesbian Alumni Association — this year's Unity Celebration was particularly meaningful.
"After a year when so much has happened, it means more than ever to be able to still come together as a community to celebrate our graduating students and learn about and recognize each other's traditions," he said.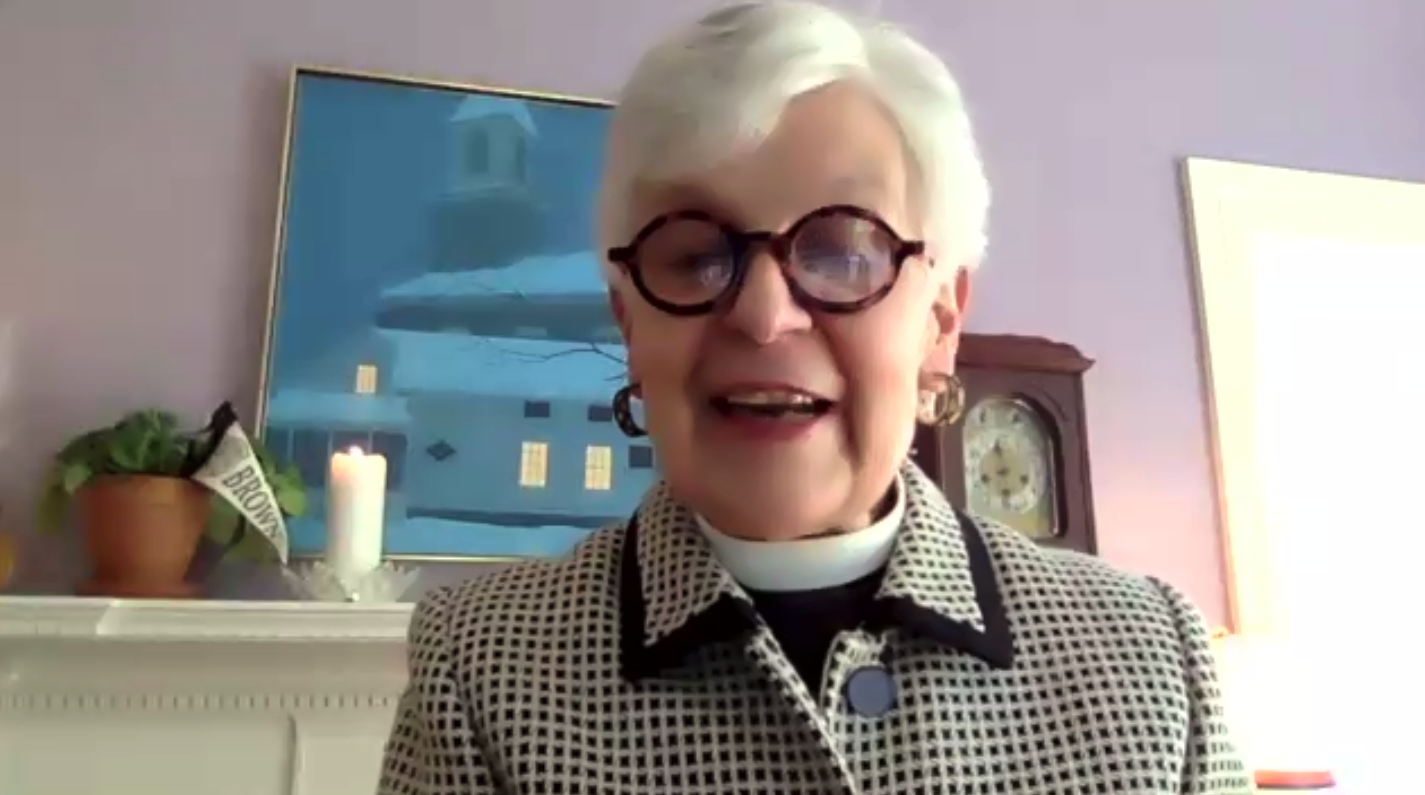 The weekend also offered alumni the chance to reflect on what it means to rejoin community in a virtual space. On Saturday, the annual All-Class Memorial Service was livestreamed from multiple locations for alumni to tune into from around the world. Led by Brown Chaplain Janet Cooper Nelson, the service invited members of the alumni community to embrace their connections with classmates as they together heal from the losses of a uniquely challenging year.
"While the family of Brown may be scattered this morning in reunion, we are in reunion," she said. "We have come back together — a community of hearts and love — and in our minds we can hear the singing of the campus. We can see the magnolias blooming as they are. We even can call to mind each other's faces and we rejoice and give thanks for that gift."
Family fun and class connections
In addition to offering meaningful ceremonies, Reunion presented ample opportunities for alumni to share joy with classmates as they participated in virtual photo booths, streamed playlists of popular songs from their graduation years, and tuned in an array of events — from musical performances to magic shows to mixology parties.
Among the musical performances were appearances by perennial Reunion favorites. Campus Dance veterans Lawrence the Band — a New York City-based group composed almost entirely of Brown alumni — offered a virtual performance that streamed Friday evening. And on Saturday, Class of 2000 Graduate Garfield Davidson, also known as DJ Garf Digga, kept the weekend's annual Unity Funk Nite tradition alive with a virtual set.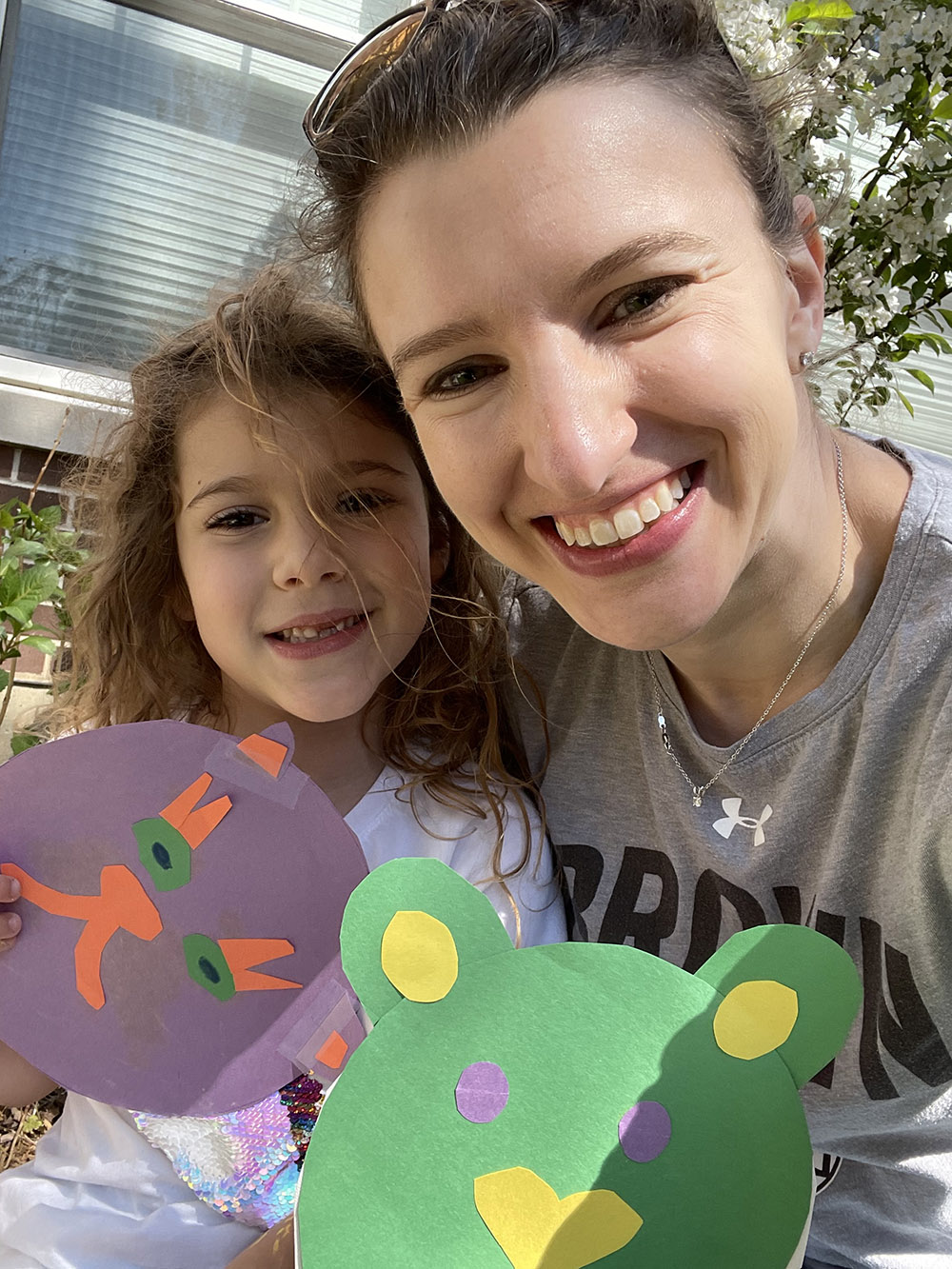 Saturday also featured Bruno Family Fun, a series of family events that included a performance of kid-friendly songs by Dave Binder, an interactive virtual magic show led by Class of 2009 Graduate Andrew Evans, and arts and crafts how-tos for the littlest members of the Brown family.
For Sarah Hurwit Gomel, a 2006 graduate, attending the magic show virtually with her two young daughters offered more opportunities for connection than a traditional live show.
"In many ways, it was better than a live event, because we were able to see the expressions on the kids' faces — the big smiles and the jaws dropping and them nudging their siblings, saying, 'Did you see that?'" she said. "It was very fun to see the looks of awe on the little Zoom screens."
After the afternoon's family-focused events, each Reunion class had the opportunity to attend events planned by their class leaders. As co-vice president of the Class of 2006, Gomel helped organize a Brown-themed trivia game — and a virtual session with a mixologist.
"Even though it's a virtual event, we wanted there to be something tangible that we could all share in," she said.
For their event, the Class of 1971 — whose members celebrated their 50th reunion this year — assembled a panel of classmates to reflect on the theme, "My Life, My Brown." Their discussion was followed by breakout room conversations where classmates mingled, reminiscing together about the ways that their time together at the University has shaped their lives.
For class president and former Brown Corporation trustee Elie Hirschfeld, the news that this milestone Reunion celebration would not be an in-person one was difficult. But in true Brown spirit, he said he was quick to see the opportunity for innovation that the virtual format presented.
"It was a great disappointment, of course, because it's so special not only to gather with our classmates, but to be a part of the entire celebration," Hirschfeld said. "On the other hand, it's thrilling because we get to do something terrific nonetheless… We have a pandemic, and we can do something great. How can you be Zoomed out at your 50th Reunion?"
Intellectual discovery and dialog
Throughout the weekend, Brown also hosted a series of virtual forums, most featuring accomplished alumni, that added a spirit of discovery and dialog to the celebration and ceremony. 
An integral part of Commencement and Reunion Weekend for decades, forums are typically held in-person and attended by alumni, graduates and their families. This year's virtual format allowed them to reach an even wider audience, with most of the discussions posted to YouTube and accessible to anyone in the world.
Topics ranged from education reform to agricultural ecology, the joys of aging to the awesomeness of space — but all shared a focus on the thrill of discovery and the power of an intellectually diverse education to spark unexpected connections and innovative solutions.
https://www.youtube.com/embed/mW3iVNC5ra8
Forum with Jessica Meir
"Reflections from Working in Space: A Conversation with President Paxson and Jessica Meir"
For Brown alumna, NASA astronaut and 2021 honorary degree recipient Jessica Meir — who made history with crewmate Christina Koch in 2019 by performing the first all-woman spacewalk, and was recently selected for Artemis, NASA's new Moon exploration program — the view from space broadened her perspective of the importance of protecting the environment, she said during a Friday event.
"You see this thin tenuous band of an atmosphere, and you can see this gradient of different blues as the air gets thinner and thinner and thinner, and then finally disappears into the blackness and void of space," the 1999 Brown graduate said in a presidential forum moderated by Paxson. "You see how tiny that is, and that is all that sustains life on our planet, the beautiful colors, the interconnected oceans and the land masses. It is just impossible to not appreciate how fragile and beautiful and unique our planet is. And that we really only have one and that we all need to work together to protect it."
Seeing the Earth's swirling blues and greens from so many miles above also deepened her sense of humankind's collective investment in confronting the many challenges it faces — from climate change to social injustice to the global pandemic.
"You know, when you're looking down at the Earth, you don't see any of these manmade geographical boundaries that we've imposed upon ourselves," Meir said. "You see these united land masses and you know that it is our planet, everybody, every human and that we are all in this together… And it's important to take that step back and remember that perspective."
For Dr. Kathleen Ferrer, taking a step back from a global challenge provided her with a critical insight to help tackle it. In this year's Ruth B. Sauber Distinguished Alumni Lecture sponsored by the Warren Alpert School of Medicine, the 1995 Brown graduate described her recent involvement in COVID-19 vaccination efforts in Washington, D.C., where she serves as a hospitalist and HIV specialist at Children's National Hospital.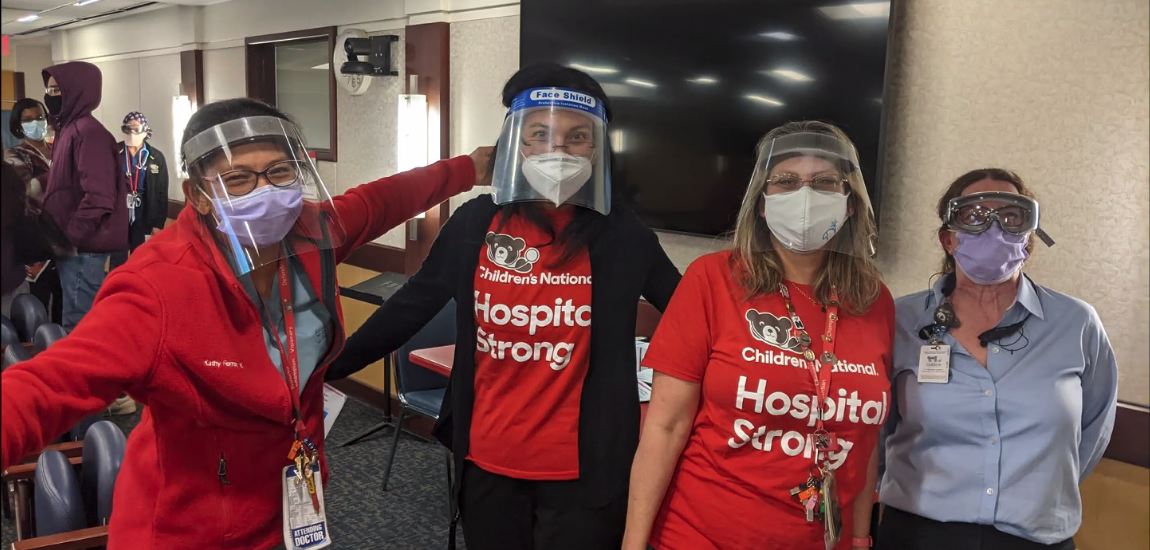 She said that she quickly recognized how much this new challenge resembled one she had encountered 16 years before, as a newly minted physician battling the pediatric HIV epidemic in Lesotho in sub-Saharan Africa. There, she learned that a breakthrough in medical treatment — in this case, highly effective antiretrovirals, commonly called PrEP — wasn't enough to eradicate an epidemic. For Ferrer and her team to help Losotho beat the pediatric HIV-infection curve, they needed to expand public health education, improve treatment accessibility and build trust between patients and their medical practitioners.
"I had a sneaking suspicion that we would encounter the same challenges with COVID vaccine distribution as we had with PrEP," she said during the Saturday lecture.
The connection between two distinct outbreaks that Ferrer managed on different sides of the world helped her and her team create a vaccine rollout approach that focused on education, accessibility and trust.
"Addressing both of these epidemics can seem insurmountable in terms of its challenges," she said. "With every challenge, there's always an opportunity — an opportunity to do better on creative solutions and exceed your expectations of the past."
Both Ferrer and Meir said that the intellectual freedom afforded them through Brown's Open Curriculum has played a role in fueling their professional accomplishments. For Ferrer, finding creative strategies for tackling these public health challenges deepened her appreciation for the wide-ranging academic pursuits that her Brown education provided.
"Just as much as health care is about medicine, equally important — even more important, I would say and I've learned — is that communication, messaging and trust are essential," she said. "And that's where I credit Brown's Open Curriculum and its emphasis on discovery and pluralism. Brown gave me the skills necessary to be bold and find creative solutions across silos and sectors. Everything you do contributes to everything else you do, although it might not necessarily be apparent at the time you are doing it."
For Meir, the freedom to follow her academic passions — from planetary geology to Swedish language — fed her interest in exploring uncharted intellectual territory. "It's always about exploration to me," she said. "That freedom to explore that the Open Curriculum offers is so powerful."
The desire to pursue her passions, and the freedom to follow them, has enabled Meir to venture outside of her comfort zone and into an unexpected sense of what it means to feel at home, she said.
"As soon as I came through the hatch and entered the International Space Station, I really did feel like I was right where I belonged," she said. "And of course it was a place that I had never been before, and it was not even on this planet, but I really did feel like I was home. And I think that that's true in so many things that we do when they're associated with our passion, when there's something that we know drives us, fuels that fire within us, and that we're just purely excited about."
It's a lesson that she wished to impart upon both the University's soon-to-be graduates and the Brown alumni listening to the livestreamed discussed from all over the world.
"Even if you are stepping slightly out of your comfort zone, you might find a new home in which you're even more comfortable, in somewhere that you belong even more so, if you truly are following your heart and following those passions," she said.