In two College ceremonies on Sunday, Brown President Christina H. Paxson and other speakers lauded graduates who, by successfully finishing their degrees during a pandemic, have proven they can handle whatever comes next.
PROVIDENCE, R.I. [Brown University] — Brown University's 2021 Commencement was like none before in the institution's 257-year history. Amid a pandemic that altered nearly every aspect of their time at Brown, graduates came together this weekend on College Hill for joyous yet socially distanced ceremonies as family, friends and well-wishers watched on computer screens the world over.
And while some Brown traditions — Campus Dance, in-person alumni reunions and the grand procession of all newly minted graduates being welcomed by generations of earlier classes — will wait to be renewed in future years, the tradition of seeing graduates off to their next chapters with hope, gratitude and jubilation remained as strong as ever.
The three-day Commencement and Reunion Weekend was capped with twin College ceremonies — held at 10 a.m. and 2:30 p.m., to keep gathering sizes below state limits — on Sunday, May 2, on the College Green. Following rousing student orations by graduating seniors George Kubai and Siddhi Nadkarni and the presentations of six honorary degrees to distinguished individuals in fields spanning football to spaceflight, Brown President Christina H. Paxson lauded Brown's 1,563 bachelor's degree recipients for finding ways to thrive in a year that didn't unfold according to anyone's script.
Undergraduate Student Orators
Brown seniors George Kubai and Siddhi Nadkarni encouraged their classmates to strengthen communities and remove barriers.
Read More
While this year may be an uncertain time to venture into post-collegiate life and careers, Paxson said, Brown's graduates have already proven they're ready for whatever may come their way.
"Over the past 14 months, you have lived with incredible uncertainty — not only about how the pandemic would play out, but also about basic aspects of your daily lives: where you'd be living and when, how you'd be learning, and how to ensure the safety of your families," she said. "And so, without a script, you adapted. You shifted your perspectives. And I have to say, through all this you have been extraordinary."
While "pandemic-level uncertainty" is truly exceptional, Paxson said, this is not the last time that graduates will find themselves in uncharted territory. The lessons learned in adapting and extemporizing during this time will surely serve graduates well in the future.
"The truth is that in the decades ahead, you will continuously write and rewrite the scripts of your own lives," she said. "And it's really important to remember that this is yours and yours alone to do. Never let anyone impose a plan on you that's not of your own making. Never let some preconceived notion of what you're expected to do drive your decisions. And I have to say, you have got this. You are so well-prepared to write your own scripts in the most glorious way possible."
Over the course of the pandemic, students found innumerable ways to reimagine their Brown experiences in high-impact ways. They worked with professors to find new ways of conducting research and teaching classes. They volunteered to bring free COVID-19 testing to underserved members of the Providence community. They worked to document people's experiences during the pandemic for the historical record. They rallied student voters to participate in a pivotal presidential election during a national reckoning on racial justice.
All of this happened even as students followed the carefully developed, robust set of health and safety protocols that kept the University running safely and protected community health through the pandemic.
"You defied the theory that college students would be super-spreaders of the virus," Paxson said. "It's because of your efforts that we are all here today."
https://www.youtube.com/embed/0C53I3zClO8
College Ceremony
Brown's College ceremonies featured remarks from student orators, an address by President Christina H. Paxson and the awarding of honorary degrees.
One new element in Sunday's ceremony was the opportunity for Brown's honorary degree recipients to offer brief remarks. Among those who accepted the honor in-person and spoke from the platform on the College Green was Class of 1999 graduate Jessica U. Meir, a NASA astronaut who in 2019 conducted the first all-female spacewalk in history. She told the Class of 2021 graduates that she recalled sitting during her Brown Commencement in the same place they sat today.
"So many memories come flooding back from my remarkable four years here at Brown, where I first learned to think critically and conducted my very first scientific experiments and had a lot of fun along the way doing so…" Meir said. "My professors and mentors fueled both my scientific and life curiosity, providing me with a foundation to launch my life's trajectory."
Fellow honorary degree recipient Maud Mandel, a longtime Brown professor and academic leader who became president of Williams College in 2018, addressed the same students she had welcomed in-person four years earlier, when she served as dean of the College at Brown as the Class of 2021 arrived in Providence. Neither Mandel nor any of the new first-years could have predicted on that day what would transpire over the next four years, she noted.
"A global pandemic," Mandel said. "Sweeping movements against racism and for equity and justice. Political upheaval. Fights to hold onto basic rights in voter access… One of the things you've learned is that life can be unpredictable. That the path for those who thrive requires resilience. That you need to be open to changing course, learning while you're doing, assessing the evidence and regrouping…
"I hope you hold onto that resilience and that recognition that life is an Open Curriculum."
A spirit of celebration
Following each of the two College ceremonies, graduates seized their long-awaited chance to march out of the Van Wickle Gates, marking the symbolic end of their academic journeys at Brown ready to start new chapters in their lives. 
Among the students passing through those legendary gates on Sunday was Aiden Reilly, a Class of 2021 member who personifies the idea of writing a new script during the pandemic. Shortly after COVID-19 restrictions went into effect nationwide, the political science and government concentrator saw news stories about farmers throwing away food they would normally sell to restaurants. Meanwhile, food banks were seeing shortages as millions of people had their incomes disrupted. Along with a few friends, Reilly launched Farmlink, a nonprofit that collects the food farmers can't sell and delivers it to food banks nationwide. 
The project started small in March 2020 with a single delivery of potatoes from an Idaho farm to a Los Angeles area food bank. But it didn't end there. Flash forward a year, and Farmlink has more than 200 volunteers, has delivered more than 30 million pounds of food nationwide and Reilly has been awarded a Congressional Medal of Honor Society Citizen Honor. After graduation, Reilly will work at Farmlink full time. He sees a future for the project well beyond the pandemic. 
"This project mindset quickly shifted from a summer project, to a pandemic project, to a mission with the goal of helping people for decades to come," Reilly said. "To me, graduating this year means I'm going to enter adult life with the understanding that while unforeseen, destabilizing events may happen at any given time, they can also bring forth opportunities you may have never imagined before.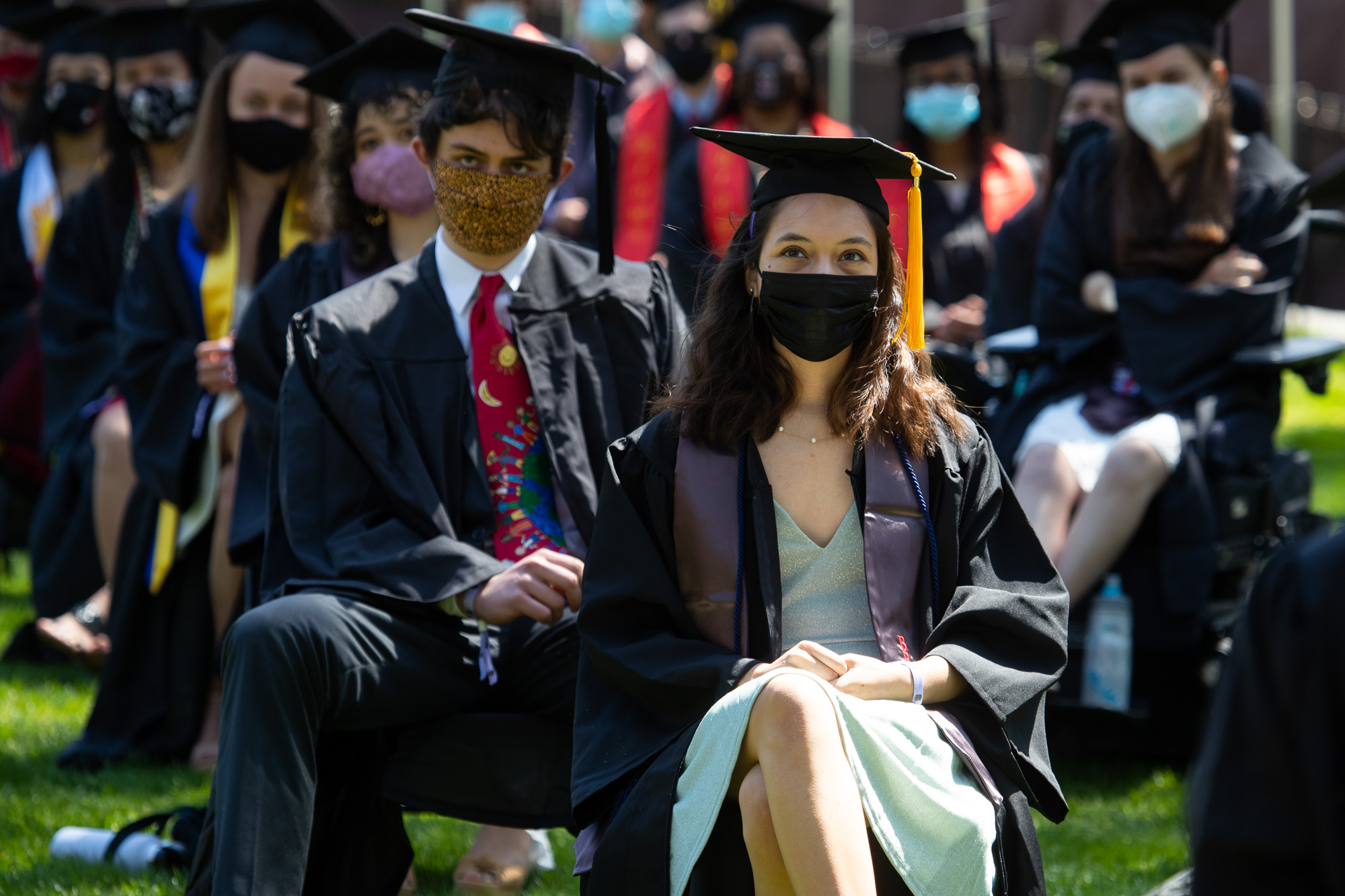 For another graduate in Sunday's procession, Melissa Lopez, the pandemic helped to confirm the importance of the path she was already taking. The environmental studies concentrator is interested in ways of making cities more resilient in the face of climate change, work that earned her a prestigious Udall Scholarship in 2020. After graduation, she's headed to Stanford to pursue a master's degree in sustainable design. While some may see the pandemic as having diverted attention from climate change, she sees the two issues as going hand-in-hand. 
"Part of focusing on climate change and its unpredictable consequences includes [creating] 'pandemic-ready' infrastructure and overall investment in our public health efforts," Lopez said. "So in some ways, I imagine that the pandemic has provided us with a wake-up call for how we design and plan our cities."
Lopez said that despite the difficulties of graduating during a pandemic, the unique circumstances and the spirit required to overcome its challenges made her extra grateful to those who helped make it possible. 
"It has been a time to step back and reflect on all the incredible individuals that have helped me in numerous ways throughout my journey," she said. "Thanks to family, friends and mentors, I am able to celebrate this weekend."
And even while those celebrations were a little different this year, Brown celebrated nonetheless. 
The festivities kicked off on Friday afternoon with a virtual Baccalaureate Ceremony featuring an address by Brown graduate and honorary degree recipient Steve Jordan. The NFL great and business leader encouraged graduates to pursue their future careers with the same courage and flexibility that pulled them through the pandemic.
Later that evening, fireworks lit up the sky above College Hill as students and community members watched from their windows.
On Saturday, master's, Ph.D. and medical students gathered both in-person and virtually for ceremonies where speakers urged classmates to work toward a better world. Saturday also saw thousands of Brown alumni come together virtually for class reunions and forums — including one in which Meir discussed her life as a NASA astronaut with Paxson. 
As events drew to a close with Sunday's College ceremonies, which also saw the presentation of Susan Colver Rosenberger Medals of Honor to two accomplished Brown faculty members, Paxson left students with a note of encouragement and affection.
"As I look out at all of you today, I can say with confidence that you are ready to graduate and take on the world," she said. "As you leave Brown, remember that we're proud of you, we love you, and we wish each and every one of you full lives of meaning and purpose."