The spring event series, which invites students to engage in a different COVID-safe activity each week, is part of a University-wide push to create more in-person campus events for students.
PROVIDENCE, R.I. [Brown University] — When María Guerrero Martínez recalls the social interactions she would have on the Brown campus before COVID-19, their spontaneity is what strikes her the most.
"I remember going to the Ratty and running into someone and sometimes just spending the next couple hours in a great conversation," said the Brown senior, who is concentrating in biochemistry and molecular biology.
Guerrero Martínez hadn't realized just how much she missed chance exchanges like this — which, in light of necessary health and safety precautions, have dwindled during the pandemic —  until she attended last week's installment of Feel Good Fridays, an in-person series organized by the University's Student Activities Office and the Office of the President that invites students to engage in a different COVID-safe activity during select weeks throughout spring term.
This week, about a thousand students came over the course of the three-and-a-half-hour event — forming in a carefully spaced queue as they arrived — to receive individually packaged Brown Build-a-Bear kits, which they assembled with their podmates in socially distanced circles on the green. Guerrero Martínez lingered long after her bear had been made, enjoying the sunshine and serendipitous conversations (behind masks and at safe distance) with friends walking by, many of whom she hadn't seen in person since the pandemic began.
"It's a space where people can unexpectedly see each other and bring back those organic interactions that we've lost because of COVID," she said. "It was so nice to lose track of time — I remember coming home and thinking I couldn't remember the last time that had happened."
The idea for Feel Good Fridays was born through discussion of an Undergraduate Student Campus Experience Working Group, which convened initially last fall to plan safe on-campus activities for students. The series launched in February to provide students with regular opportunities to interact socially through activities carefully designed to accord with current public health guidelines, said Joie Steele, associate dean and director of the Student Activities Office.
"Coming together in person is critical for forming connections, so we've always wanted to hold in-person events for students once we knew we could do so safely," she said. "When the state's public health guidelines opened up a little bit, we made it a priority to create opportunities for students to connect socially in a safe way."
Each event is planned with careful attention to ensuring the health and safety of all student participants and staff organizers. Activity materials — such as last week's Build-a-Bear kits and cookie decorating kits distributed at the series' Valentine's Day event — are individually packaged, allowing students to grab and go quickly and eliminating the need for communal supplies. Students wear masks at all times, participate in their activities with podmates in circles mapped at safe distance from each other on the College Green, and maintain 6 feet between themselves and anyone who is not in their pods.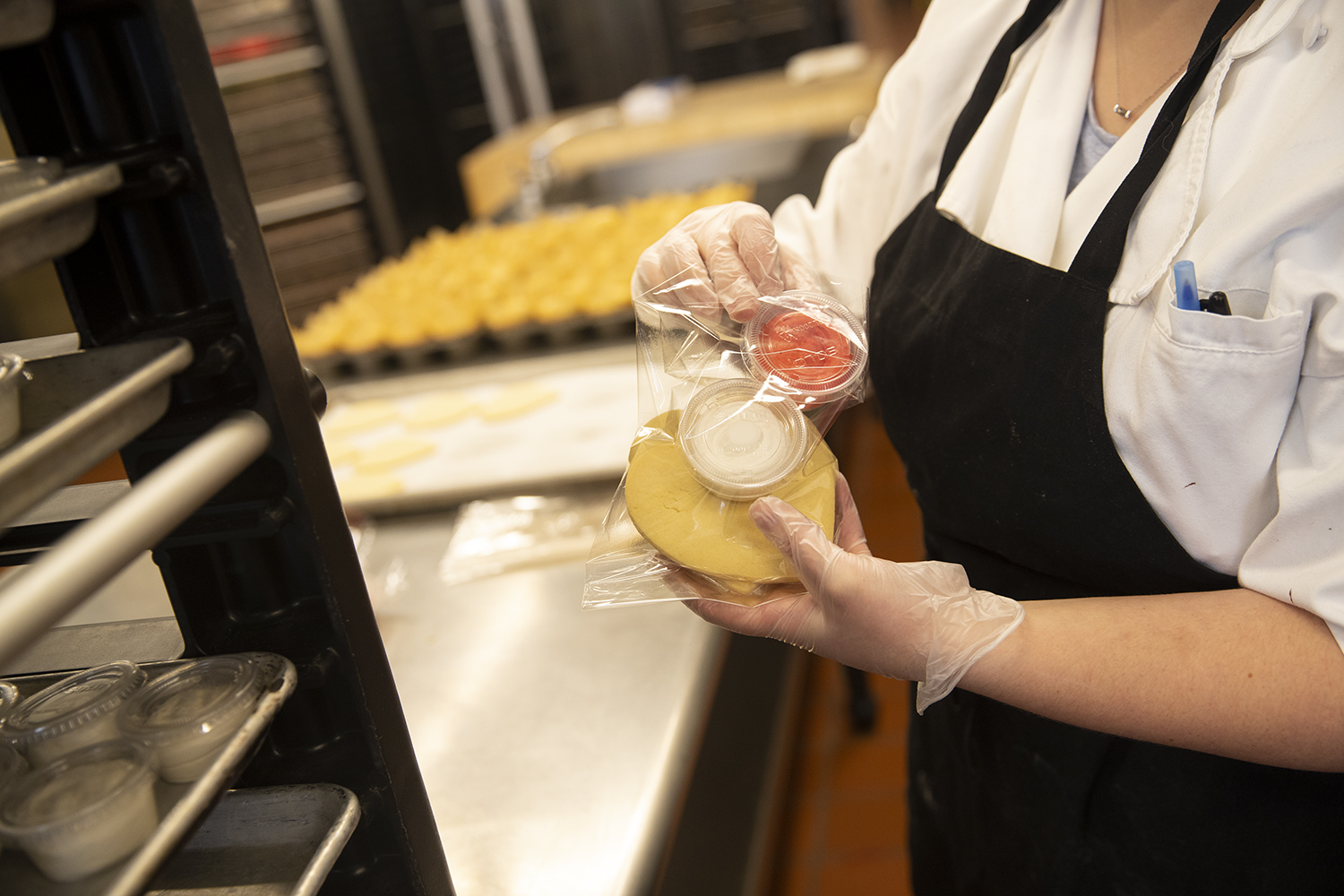 The events are part of a larger push for Brown faculty and staff to propose in-person activities for students while public health guidelines allow, Steele said. There have been a range of events thus far this term, all reviewed by a committee to ensure they meet public health requirements, including a t-shirt giveaway for first-years students and Van Wickle Gates walkthroughs in February and March that welcomed new students to Brown. Upcoming events include an end-of-the-year celebration for graduating international students sponsored by the Global Brown Center and in-person lunches with Vice President for Campus Life Eric Estes, who will host students in his backyard.
Steele hopes that the success of Feel Good Fridays inspires even more faculty and staff to propose in-person activities — and even more students to share their ideas for future events.
"At our current campus activity level, there are probably a lot of university- and department-sponsored activities that we had to hold virtually this fall that we could begin holding in-person again," she said. "I look forward to working with faculty and staff to shift back to increased engagement on campus."
In the meantime, students like Grace Johnson, a junior neurobiology concentrator, will continue to enjoy the serendipity that Feel Good Fridays allow.
"One of my favorite parts of being at Brown is spending time on the green, so getting to see everyone together last Friday, but in their distanced groups, was really special," said Johnson, who served with Guerrero Martínez on the working group that inspired Feel Good Fridays. "Seeing the sun starting to set over the Hay and the Rock while sitting next to one of my friends — it felt as close to what it had been as it can get for now."