By
Sophie Culpepper for IMPACT: Research at Brown
With new Mellon Foundation grant, Brown will advance its foray into digital scholarship, starting with 'Furnace and Fugue.'
PROVIDENCE, R.I. [Brown University] — When first published over 400 years ago, "Atalanta fugiens" was a multimedia publication strikingly innovative for its time.
Originally published in 1617, the unusual text used 50 sets of written words, musical notation and images to retell Ovid's legend of Atalanta in the form of an alchemical allegory.
And today, Brown's Digital Publications Initiative is using the same book to break ground again with its first "born-digital" publication.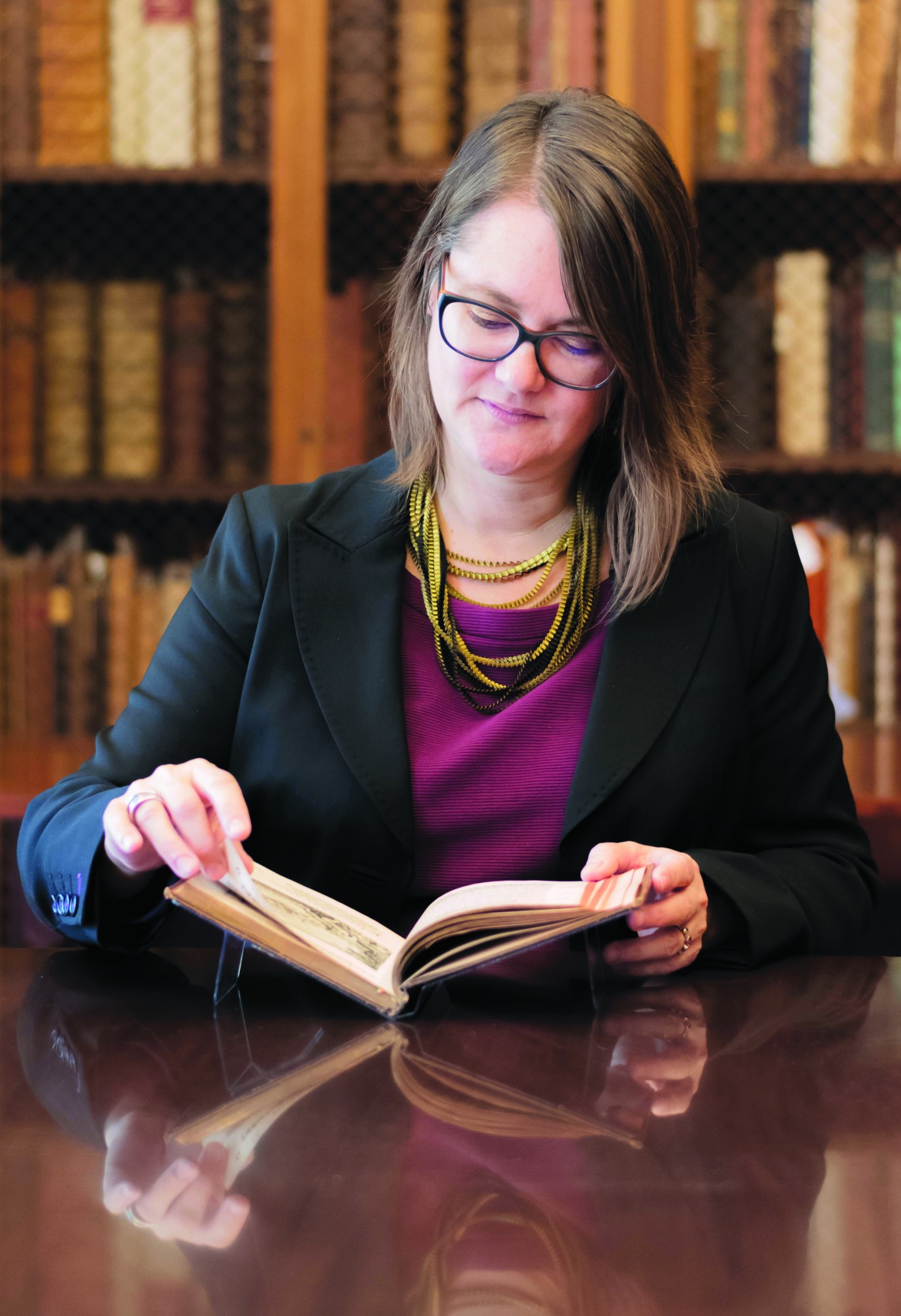 Professor of History and Italian Studies Tara Nummedal and Donna Bilak, an independent scholar, are coeditors of "Furnace and Fugue: A Digital Edition of Michael Maier's 'Atalanta fugiens' (1618) with Scholarly Commentary," the first in a series of planned digital publications from the University. Their edition, published in July by the University of Virginia Press, is a pilot of the Digital Publications Initiative at Brown — a venture with large potential implications for the way scholarship is produced, published and evaluated.
Funded by two grants from the Andrew W. Mellon Foundation, the initiative, which has been overseen since 2015 by the Office of the Dean of the Faculty and the University Library, supports humanities scholars in publishing monographs and editions in an entirely new format, combining a high level of scholarship with creative interactive features.
"The idea was not to produce a static e-book or static PDF, but to create born-digital, enhanced scholarly monographs," said Digital Scholarship Editor Allison Levy, emphasizing that the publications are not rooted in print.
"Furnace and Fugue," specifically, "is innovative for how it uses digital to dissolve disciplinary boundaries," Bilak noted.
Rather than mere digital texts interspersed with hyperlinks, multimedia is actually integrated into the publications themselves by the Center for Digital Scholarship in the Rockefeller Library.
In the case of "Furnace and Fugue," readers can not only hear and manipulate the fugues, which were recorded by professional musicians in the digital studio in the Rockefeller Library, but they can also create collections of emblems, or sections, that engage with the scholarly arguments, tell other stories or identify patterns. They can then share their collections with others by sending a uniquely generated URL.
Nadine Zimmerli, editor of History and Social Sciences at the University of Virginia Press, said "Furnace and Fugue" is the cutting edge of what's possible, adding, "I believe other digital publications will be measured against publications such as 'Furnace and Fugue.'"
Brown University Librarian Joseph Meisel agreed. Its publication "is an amazing accomplishment, given that only a few years ago there was a great deal of uncertainty and hesitancy among both faculty and presses about born-digital long-form scholarship," he said. "By demonstrating that such works can be of the highest scholarly quality and open up new possibilities for faculty to develop their ideas, Brown has really helped change the conversation."
Dean of the Faculty Kevin McLaughlin said that the initiative is drawing attention "not only on campus, but nationally and internationally."
The initiative at the University is currently overseeing five other faculty-led publications, expected to be published in the next few years. In his forthcoming "Islamic Pasts and Futures: Horizons in Time," Professor of Islamic Humanities Shahzad Bashir also makes use of the nonlinear capabilities of digital publication. The book seeks to "turn upside down the way the relationship between Islam and time has been understood in modern scholarship since the 19th century," he said.
Digital capabilities have completely transformed the project by making it more layered and sophisticated than it could be in print. For instance, Bashir's table of contents, instead of appearing as a list, is presented as a scattered constellation-like set of points, so that the reader can choose any point as their beginning, rather than automatically starting with Chapter 1.
"The text becomes less dense, but the conceptualization becomes more dense," he said.
The publications require extensive interdisciplinary collaboration. In the case of "Furnace and Fugue," this extends to collaborations outside the traditional forms and boundaries of the academy, such as between Nummedal and Bilak. Bilak said it highlights the importance of institutional support in producing new forms of scholarly editions, which in turn facilitates the production of new knowledge.
McLaughlin has worked to encourage respect for this new format of scholarship to be similar to that for dissertations and printed publications. This support is intended to allow early career scholars to experiment with the new scholarship format.
The initiative is providing the infrastructure and technical and editorial support for faculty to take advantage of the possibilities of digital publishing, McLaughlin said.
However, a future challenge remains: "We need to know how to talk about that work and how to evaluate it in a university setting," Nummedal said.
Of course, nobody could have anticipated that "Furnace and Fugue" would be published in the midst of a global pandemic which has dramatically accelerated the demand for innovation in learning methods. COVID-19 "is not the context I wanted for this book," Nummedal said. "But, in a way, it's really timely," due to the increased need for inventive digital material.
"Everyone has no choice but to engage with digital scholarship on some level right now," Levy added.